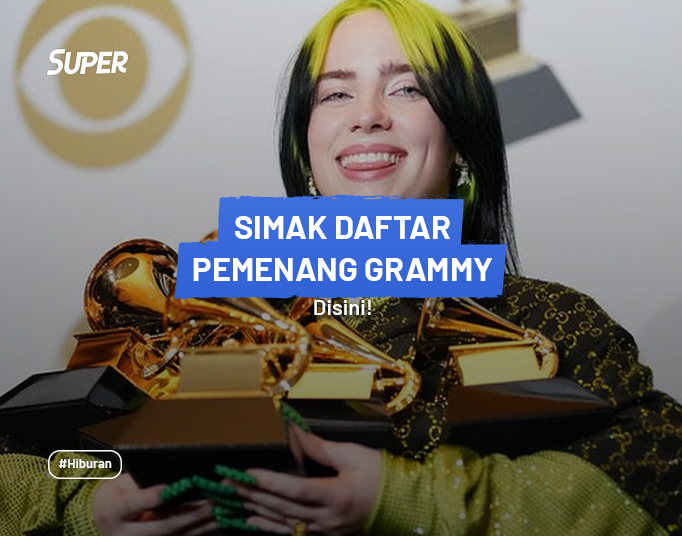 Grammy Awards 2022 telah berlangsung pada Minggu, 3 April 2022 atau di Indonesia pada Senin, 4 April 2022 pukul 07.00 WIB. Meski telah sebulan berlalu, acara ini masih hangat diperbincangkan. Pasalnya, ajang penghargaan musik bergengsi yang digelar di Las Vegas ini diramaikan oleh penampilan banyak musisi ternama. Contohnya, Billie Eilish, Lil Nas X dan Jack Harlow, Brothers Osborne, Olivia Rodrigo, bahkan boy group asal Korea Selatan yaitu BTS.
Selama bertahun-tahun, acara tersebut menganugerahkan penghargaan kepada musisi-musisi ternama dengan lebih dari 75 daftar nominasi Grammy Awards dari 25 genre. Beberapa kategori penghargaan yang paling ditunggu-tunggu musisi maupun penggemar, antara lain record, album, music of the year, serta artis terbaru.
Bagi Sedulur yang melewatkan penayangan acaranya, namun penasaran dengan daftar pemenang setiap nominasi, tenang saja. Sedulur bisa mengecek daftar pemenang Grammy Award lengkap 2022 beserta beberapa fakta menariknya di artikel ini. Yuk, simak!
BACA JUGA: Biodata & Profil Tri Suaka, Penyanyi Jalanan yang Kini Sukses
Daftar pemenang Grammy Awards 2022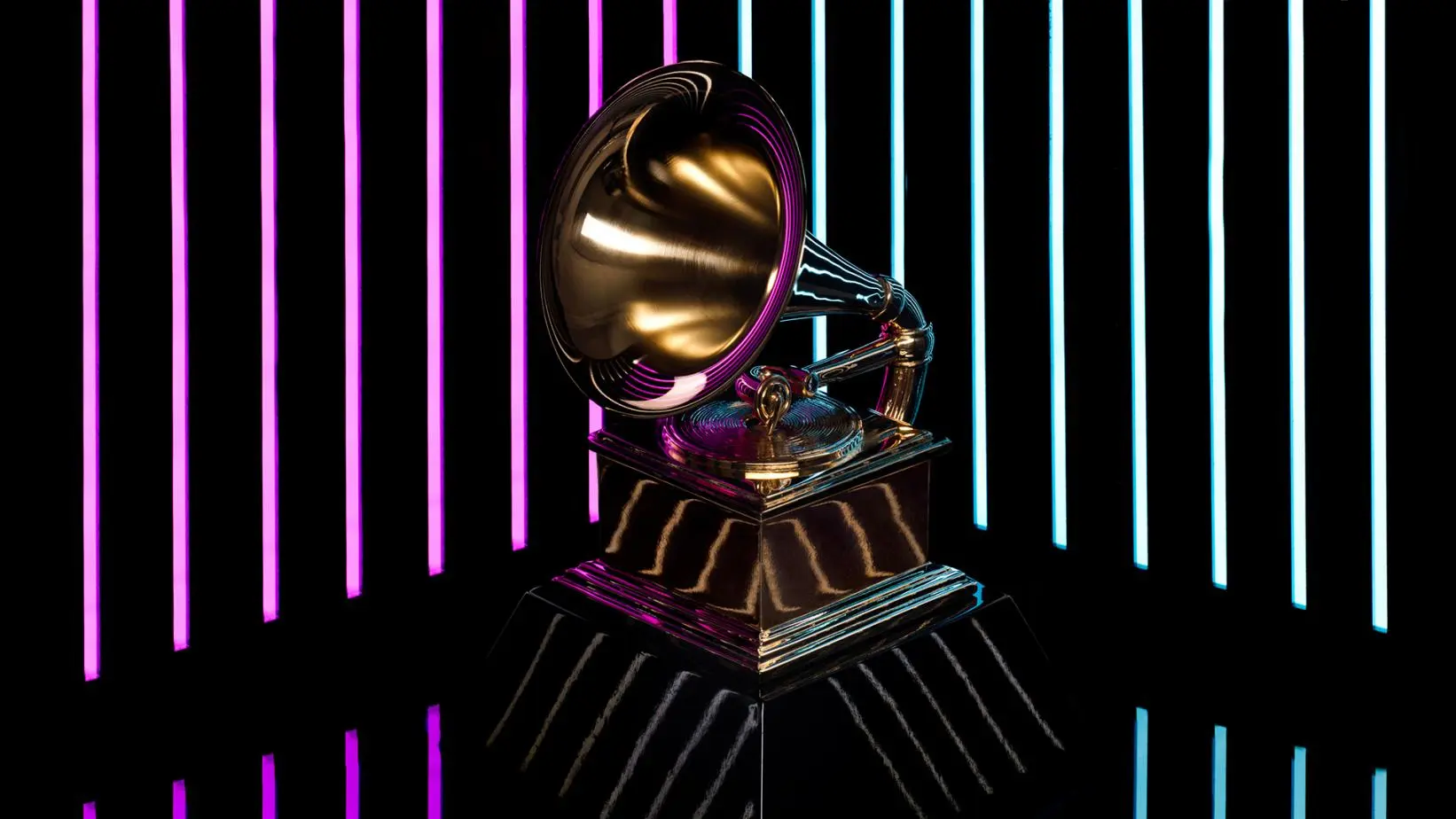 Berikut adalah daftar pemenang Grammy Awards tahun 2022.
Record of the Year: Leave the Door Open – Silk Sonice

Album of the Year: We Are – Jon Batiste

Best Pop/Duo Group Performance: Kiss Me More – Doja Cat feat. SZA

Best R&B Album: Heaux Tales – Jazmine Sullivan

Best Pop Vocal Album: Sour – Olivia Rodrigo

Best Rap Performance: Baby Keem Featuring Kendrick Lamar – Family Ties

Best New Artist: Olivia Rodrigo

Best Country Album: Starting Over – Chris Stapleton

Song of the Year: Leave the Door Open – Silk Sonic

Producer of the Year, Non-Classical: Jack Antonoff

Best Traditional Pop Vocal Album: Tony Bennett & Lady Gaga – Love for Sale

Best Pop Solo Performance: Olivia Rodrigo – Drivers License

Best Comedy Album: Louis C.K – Sincerely Louis CK

Best Children's Music Album: Falu – A Colorful World

Best Jazz Vocal Album: Esperanza Spalding – Songwrights Apothecary Lab

Best Rap Album: Tyler – The Creator, Call Me if You Get Lost

Best Rap Song: Kanye West – Jail

Best Melodic Rap Performance: Kanye West featuring The Weeknd & Lil Baby – Hurricane

Best Progressive R&B Album: Lucky Daye – Table for Two

Best R&B Song: Silk Sonic – Leave The Door Open

Best Traditional R&B Performance H.E.R – Fight for You

Best R&B Performance: (TIE) Silk Sonic, Leave the Door Open; Jazmine Sullivan, Pick Up Your Feelings

Best Alternative Music Album: St. Vincent – Daddy's Home

Best Rock Album: Foo Fighters – Medicine at Midnight

Best Rock Song: Foo Fighters – Waiting on a War

Best Metal Performance: Dream Theater – The Alien

Best Rock Performance: Foo Fighters – Making a Fire

Best Contemporary Classical Composition: Shaw: Narrow Sea

Best Classical Compendium: Women Warriors – The Voice of Change

Best Classical Solo Vocal Album: Sangeeta Kaur & Hila Plitmann – Mythologies

Best Classical Instrumental Solo: Jennifer Koh – Alone Together

Best Chamber Music/Small Ensemble Performance: Yo-Yo Ma & Emanuel Ax, Beethoven: Cello Sonatas – Hope Amid Tears

Best Choral Performance: Mahler: Symphony No.8, Symphony of a Thousand

Best Opera Recording: Glass: Akhnaten

Best Orchestral Performance: Price: Symphonies Nos. 1&3

Producer of the Year, Classical: Judith Sherman

Best Engineered Album, Classical: Chanticleer Sings Christmas

Best Spoken Word Album: Don Cheadle, Carry On: Reflections For A New Generation From John Lewis

Best Contemporary Instrumental Album: Taylor Eigsti, Tree Falls

Best Tropical Latin Album: Ruben Blades y Roberto Delgado & Orquesta, Salswing!

Best Regional Mexican Music Album (Including Tejano): Vincente Fernandez, A Mis 80's

Best Latin Rock or Alternative Album: Juanes – Origen

Best Musica Urbana Album: Bad Bunny – El Último Tour Del Mundo

Best Latin Pop Album: Alex Cuba – Mendo

Best Roots Gospel Album: Carrie Underwood – My Savior

Best Contemporary Christian Music Album: Elevation Worship & Maveric City Music – Old Church Basement

Best Gospel Album: CeCe Winans – Believe for It

Best Contemporary Christian Music Performance/Song: CeCe Winans – Believe for It

Best Gospel Performance/Song: CeCe Winans – Never Lost

Best Music Film: Summer of Soul

Best Music Video: Jon Batiste – Freedom

Best Immersive Audio Album: Alicia – Alicia Keys

Best Remixed Recording: Passenger (Mike Shinoda Remix) – Deftones

Best Engineered Album, Non-Classical: Love For Sale – Tony Bennett & Lady Gaga

Best Historical Album: Joni Mitchell Archives, Vol.1: The Early Years (1963-1967) – Joni Mithchell

Best Album Notes: The Complete Louis Armstrong Columbia and RCA Victor Studio Sessions 1946-1966 Ricky Riccardi

Best Boxed or Special Limited Edition Package: All Things Must Pass, George Harrison

Best Recording Package: Pakelang – Li Jheng Han & Yu & Wei

Best Dance/Electronic Music Album: Black Coffee – Subconsciously

Best Dance/Electronic Recording: Rufus Du Sol – Alive

Best Reggae Album: Soja – Beauty in the Silence

Best Regional Roots Album: Kalani Pe'a – Kau Ka Pe'a

Best Folk Album: Rhiannon Giddens with Francesco Turrisi –  They're Calling Me Home

Best Contemporary Blues Album: Christone "Kingfish" Ingram – 662

Best Traditional Blues Album: Cedric Burnside – I Be Trying

Best Bluegrass Album: Bela Fleck – My Bluegrass Heart

Best Americana Album: Los Lobos – Native Sons

Best American Roots Song: Jon Batiste – Cry

Best American Roots Performance: Jon Batiste – Cry

Best Country Song: Chris Stapleton – Cold

Best Country Duo/Group Performance: Brothers Osborne – Younger Me

Best Country Solo Performance: Chris Stapleton – You Should Probably Leave

Best Latin Jazz Album: Eliane Elias With Chick Corea and Chucho Valdes – Mirror Mirror

Best Large Jazz Ensemble Album: Christian McBride Big Band, For Jimmy, Wes and Oliver

Best Jazz Instrumental Album: Ron Carter, Jack DeJohnette & Gonzalo Rubalcaba, Skyline

Best Improvised Jazz Solo: Chick Corea – Humpty Dumpty (Set 2)

Best New Age Album: Stewart Copeland & Ricky Kej – Divine Tides

Best Arrangement, Instrumental and Vocals: Vince Mendoza – To The Edge of Longing (Edit Version)

Best Arrangement, Instrumental or A Cappella: Charlie Rosen & Jake Silverman, 8-Bit Big Band's Meta Knight's Revenge

Best Instrumental Composition: Lyle Mays – Eberhard

Best Musical Theatre Album: The Unofficial Bridgerton Musical

Best Compilation Soundtrack for Visual Media: The United States Vs. Billie Holiday

Best Score Soundtrack for Visual Media: Carlos Rafael Rivera, The Queen's Gambit and Jon Batiste, Trent Reznor & Atticus Ross, Soul (tie)

Best Song Written for Visual Media: Bo Burnham – All Eyes on Me

Best Immersive Audio Album: Soundtrack of the American Soldier

Best Global Music Performance: Arooj Aftab – Mohabbat

Best Global Music Album: Angelique Kidjo – Mother Nature
Foo Fighters raih 3 penghargaan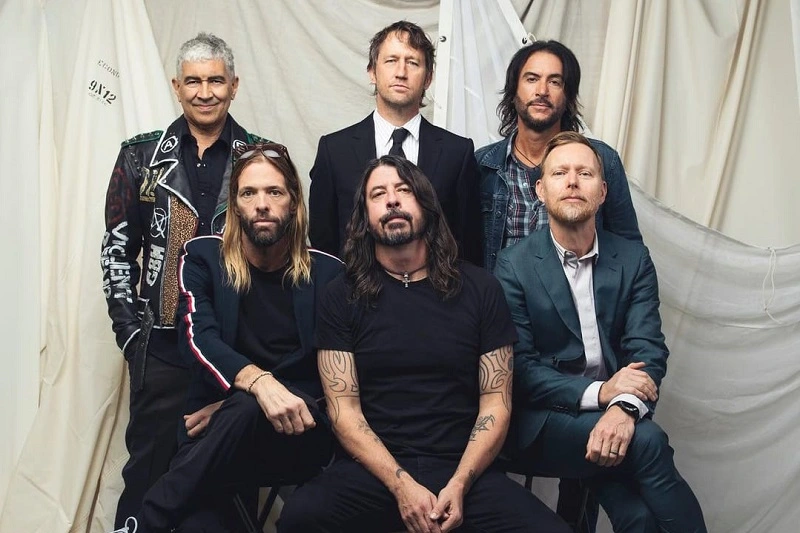 Dari daftar pemenang di atas, dapat Sedulur ketahui bahwa grup musik Foo Fighters berhasil memboyong 3 piala, antara lain Best Rock Performance, Best Rock Song, dan Best Rock. Sayangnya, para personel grup musik ini yaitu Dave Grohl, Nate Mendel, Chris Shiflett, Rami Jaffee, dan Pat Smear tidak bisa menghadiri Grammy Awards 2022.
Kemenangannya menjadi Best Rock Album diwakilkan oleh presenter Jimmy Jam. "Doa untuk orang yang mereka cintai." kata Jimmy Jam saat menerima piala tersebut atas nama Foo Fighters.
BACA JUGA: Profil & Fakta Niki Zefanya, Musisi Indonesia yang Berkarir di Intenasional
Jon Batiste memenangkan Album of the Year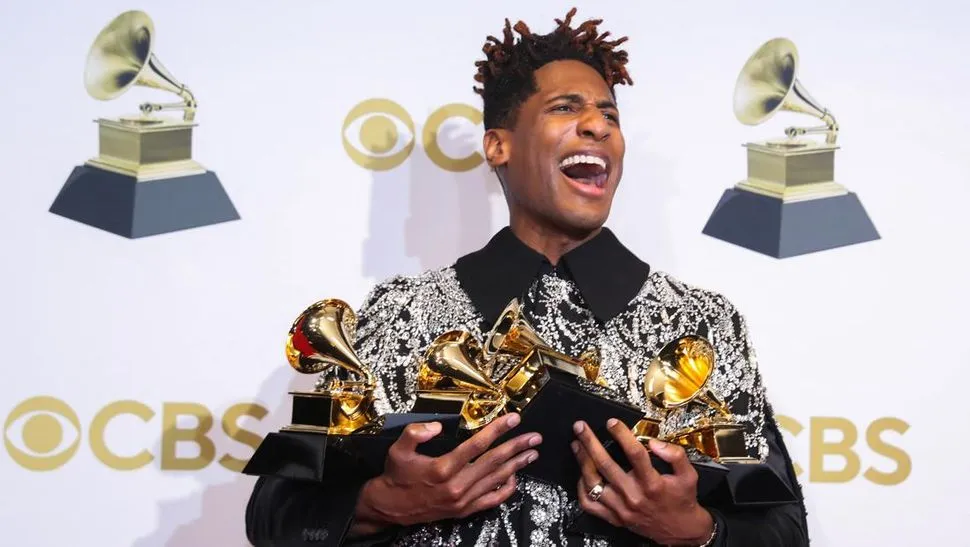 Dalam acara Grammy Awards 2022, Jon Batiste menjadi musisi yang paling banyak memenangkan piala. Ia memenangkan kategori Best Music Video, Best American Roots Song, Best American Roots Performance, serta Best Score Soundtrack for Visual Media. Bahkan, di penghujung acara, Jon Batiste menjadi pemenang kategori Album of the Year untuk karyanya, We Are. Secara total, Jon Batiste berhasil membawa pulang 5 piala.
BTS kalah di Grammy Awards 2022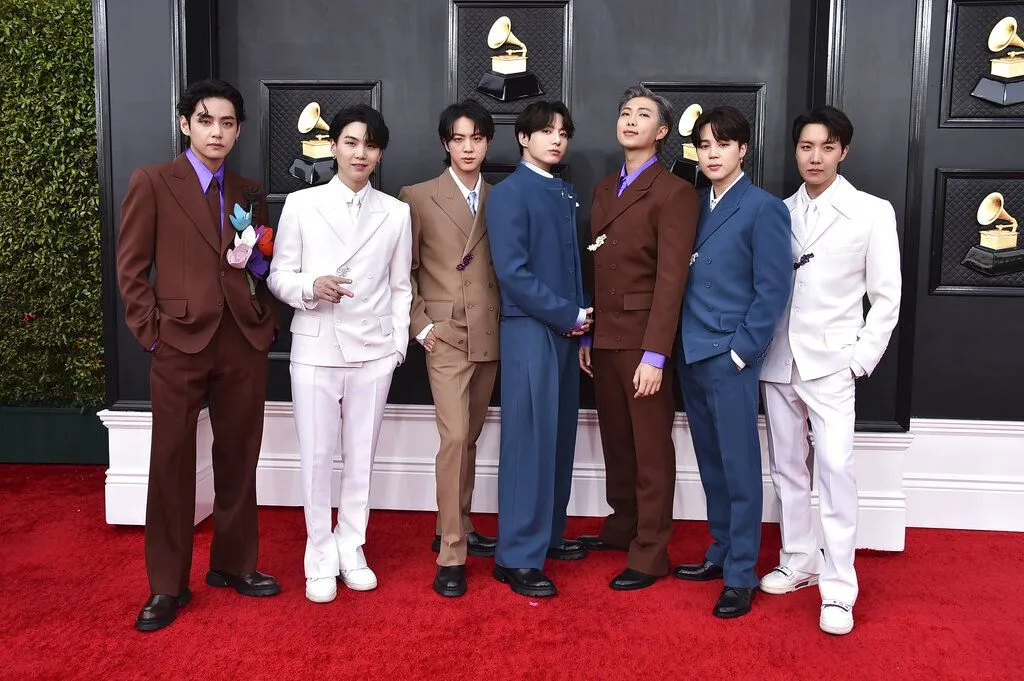 Pada Grammy Awards 2022, banyak mata tertuju pada BTS karena boy group populer ini kembali masuk daftar nominasi, tepatnya dalam kategori Best Pop Duo/Group Performance untuk Butter. Sayangnya, BTS harus menelan pil pahit karena tidak berhasil membawa pulang piala di kategori tersebut. Piala penghargaan ini berhasil dimenangkan oleh Doja Cat dan Sza. Meski demikian, BTS tetap berterima kasih kepada ARMY, sebutan untuk penggemar BTS, yang selalu memberikan dukungan tanpa henti.
BACA JUGA: Profil Suga BTS dan Terkuak Fakta Kehidupan Pribadinya
Presiden Ukraina hadir di Grammy Awards 2022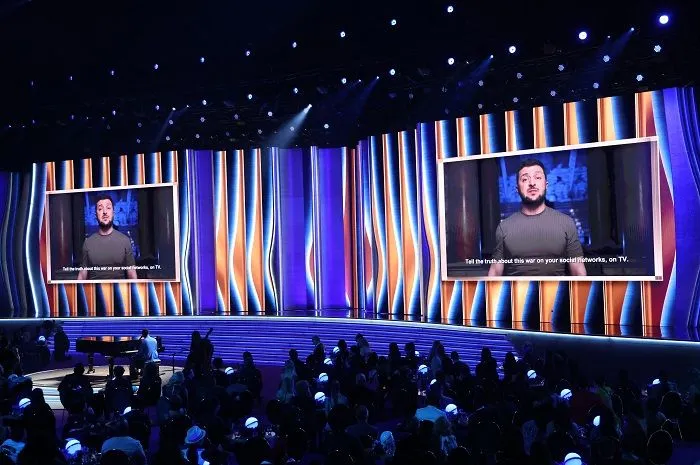 Kemunculan Presiden Ukraina Volodymyr Zelenskyy di Grammy Awards 2022 cukup menjadi sorotan. Dalam acara penghargaan musik internasional itu. Zelenskyy memberikan pidato yang direkam sebelumnya di tengah kondisi perang dengan Rusia. Ia merekam video pidato tersebut dalam 48 jam terakhir di sebuah bunker di Kyiv.
"Musisi kami memakai pelindung tubuh, bukan tuksedo. Mereka bernyanyi untuk korban yang terluka. Di rumah sakit. Bahkan bagi mereka yang tidak bisa mendengarnya. Tapi musik akan tetap menjangkau mereka. Bantu kami dengan cara apa pun yang bisa kalian lakukan. Apa pun, asal bukan dengan diam," ucap Zelenskyy.
Ia mengakhiri pidato itu dengan menyebutkan beberapa kota di Ukraina sambil mengatakan, "Saya bermimpi mereka bisa hidup dan bebas. Bebas seperti Anda di panggung Grammy." tuturnya.
Itulah daftar pemenang Grammy Awards 2022 beserta beberapa informasi menariknya. Semoga bisa menjawab rasa penasaran Sedulur yang tidak sempat menyaksikan acara ini pada bulan April lalu, ya.
Mau belanja bulanan nggak pakai ribet? Aplikasi Super solusinya! Mulai dari sembako hingga kebutuhan rumah tangga tersedia lengkap. Selain harganya murah, Sedulur juga bisa merasakan kemudahan belanja lewat handphone. Nggak perlu keluar rumah, belanjaan pun langsung diantar. Yuk, unduh aplikasinya di sini sekarang!
Bagi Sedulur yang punya toko kelontong atau warung, bisa juga lho belanja grosir atau kulakan lewat Aplikasi Super. Harga dijamin lebih murah dan bikin untung makin melimpah. Langsung restok isi tokomu di sini aja!