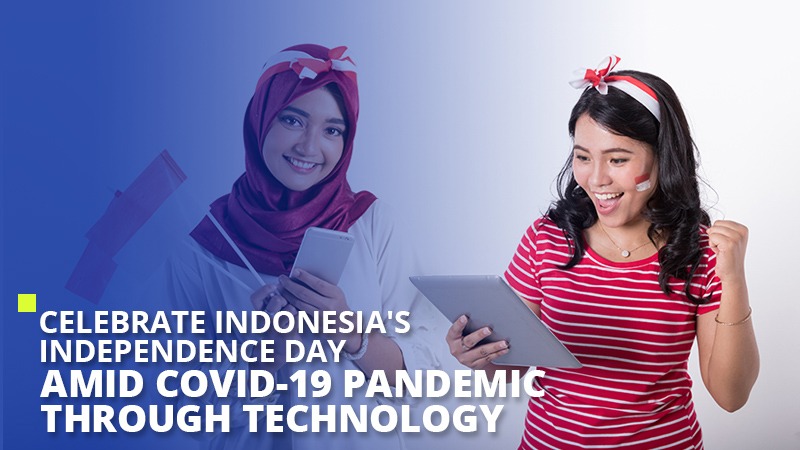 Indonesia's Independence Day is celebrated every August 17. Usually, Independence Day in Indonesia is celebrated by doing flag ceremonies, competitions, or even festivities. However, all of us might notice that this year is quite different from previous years as we're still facing the COVID-19 pandemic.
This COVID-19 pandemic has lots of impacts, especially for Indonesia during Independence Day. Related to New Normal Regulation, organizing every celebration, such as a public ceremony will be implemented in different ways. Indonesia's 75th Independence Day is to be held digitally on Augustus 17 in compliance with the prevailing health protocols.
Joko Widodo, the government of the Republic of Indonesia has announced that this country will celebrate Independence Day 2020 on a smaller scale as the country still battling to contain the spread of COVID-19 pandemic. He also said that the flag-hoisting ceremony will still be carried out amid this situation, but the participants are very limited numbers and this event will hold on digital. The government will encourage public participation in singing the national anthem "Indonesia Raya" by hold flag-hoisting at 10:00 a.m. on Monday, August 17.
Celebrating Indonesia's Independence Day through Technlogy at Home
Reports from The Jakarta Post, Wishnutama Kusubandio, Tourism and Creative Economy Minister, said that the public could expect a different, more innovative, celebration of Indonesia's Independence Day 2020 as it would take place entirely online through the all-digital technologies platform.
As we know, the technologies are playing a crucial role during the COVID-19 pandemic, especially when we should be keeping away from each other. Carry out all activities through technology is highly recommended amid this pandemic. Technology can help us running activity and productivity as usual.
As social commerce who aims to empower people through technology, Aplikasi Super has supported every person, who owns the grocery stores in East Java to follow the government instructions to stay at home during this pandemic. Aplikasi Super helps them to fill the needs of the store's items at affordable prices just by clicking the apps.
Feel the Freedom of Indonesia's Independence Day with Aplikasi Super
Aplikasi Super also provides free delivery service, so they still can implement government instruction to #StayAtHome. They do not need to shop out there and gather in crowded places. Thus, Aplikasi Super can help us to break the chains of COVID-19 pandemic transmission. Aplikasi Super makes those who own grocery stores feel the vibes of Independence Day amid this COVID-19 pandemic by making them easier to shop the daily necessities.
There are many advantages that you can get when choosing Aplikasi Super to fulfill the goods of your store. Not only helps you to shop easier and more affordable, Aplikasi Super also can help you to manage financial transactions by using the "Toko Saya" feature.
Recently, this feature has been launched by Aplikasi Super, it will make you easier to record, track, and calculate your grocery store expenses. In addition, this feature will develop your store more high-technology. This feature is also one of Aplikasi Super's goals to build an entrepreneurial spirit in Indonesia and empower equality in the economy through distribution goods across Indonesia tier-2 and tier-3 cities, as well as Indonesian rural areas. With Aplikasi Super, you will be part of people who makes Indonesian society free from economic inequality through technology. Do not hesitate to register yours in Aplikasi Super.
During this COVID-19 pandemic, Aplikasi Super also always tries to give an impact on others. To supports the street vendors (PKL) who still survive livelihoods for their families amid the COVID-19 pandemic in Indonesia, we have opened a donation entitled #SembakoUntukSedulur.
This event has succeeded in distributing 750 packages of daily necessities, such as oil, rice, and instant noodles of total nominal donation Rp75 million to people affected by the COVID-19 pandemic in East Java, especially the street vendors (PKL). Thank you for all of the donors, you have helped Aplikasi Super to support people facing the COVID-19 pandemic, so they still can celebrate Independence Day together with us on August 17, 2020.
Let's celebrate Independence Day through technology. Download Aplikasi Super now!