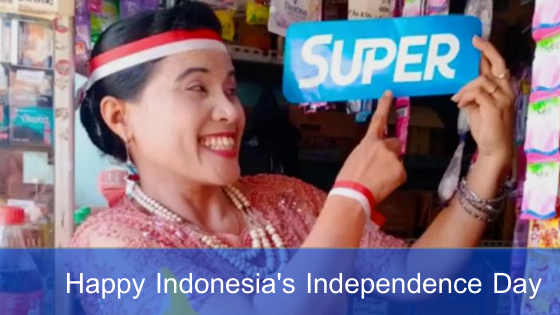 The country of Indonesia commemorates its 75th independence on August 17th, 2020. Every year, this event is celebrated with ceremonies, competitions, and carnivals everywhere. However, this year is different because we are celebrating it amid the COVID-19. The spread of this virus still increasing each day.
To replace the annual activities, which are usually filled with physical games and direct interactions, all Indonesians had to get creative to celebrate Independence Day. Many people participate in digital festivities, such as involved in flag-hoisting ceremonies at home or participate in online competitions.
As a technology-based company, Aplikasi Super tries to empower equality in the economy through distribution goods across Indonesia tier-2 and tier-3 cities, as well as Indonesian rural areas with technology. Aplikasi Super targeted at individuals who have grocery stores and need to fulfill their store by streamlining and optimize existing supply chains. Other than that, Aplikasi Super always tries to give a positive impact on Indonesians. As social commerce, we have held #SembakoUntukSedulur activity successfully. This event aims to support street vendors (PKL) who still survive livelihoods for their families during this pandemic. This event has succeeded in distributing 750 packages of daily necessities.
After held that activity, Aplikasi Super conducts Indonesia's Independence Day festivities. This activity involved Super Center and all Indonesians who want to celebrate the freedom of Indonesia at their home. Here are activities that Aplikasi Super held to celebrate 75th Indonesia's Independence Day.
#SemarakMerahPutih: Super for Independence Day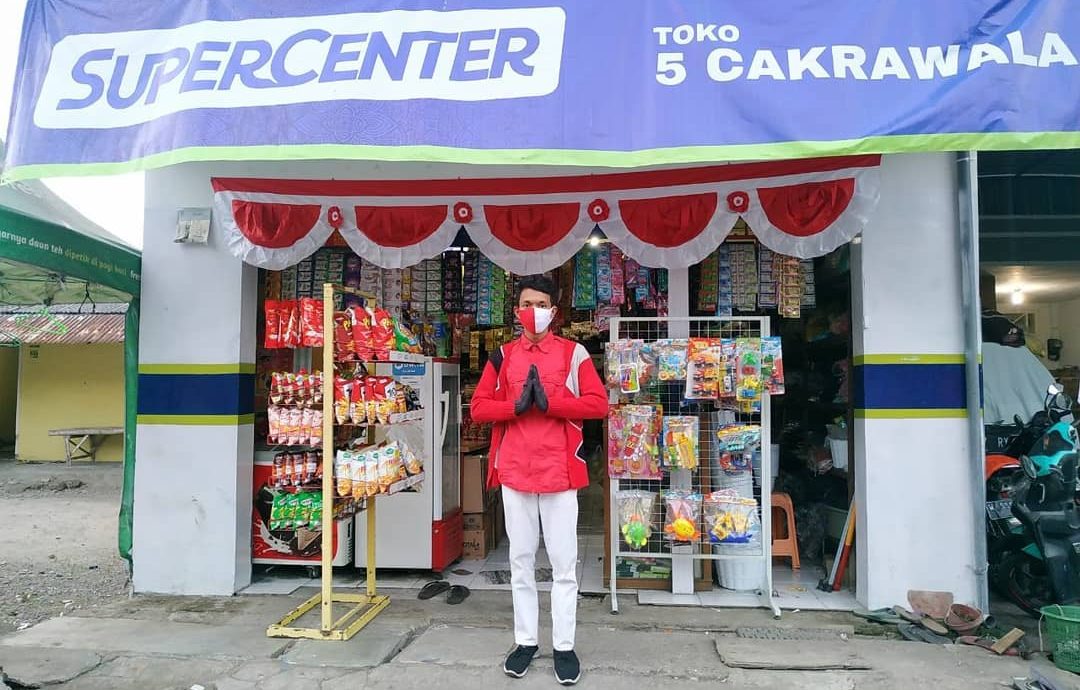 To enhance good relations with Super Center, Aplikasi Super held a photo and video contest from 11 August to 23 August 2020. #SemarakMerahPutih contest aims to all Super Center who have decorated their stores with independence attributes, such as red and white balloons, wearing red and white clothes, or even their held special discounts on Independence Day.
The Super Center who want to join this contest should follow the Instagram @AplikasiSuper, then take picture or videos. After that, they post it into the Instagram, tag, and mention Aplikasi Super. The winner will get the best prizes up to Rp4.000.000.
There are many Super Center who have participated in this event. First, "Toko Carpio", they have decorated their stores with the Indonesian flag. Second, "Toko Lestari Jaya" who was wearing a red and white costume to enliven Independence Day and they also displaying the Indonesian flag in front of their grocery store. Third, "UD Rumah Pangan Jaman", this Super Center join the event with high totality. They decorated their store with red and white balloons, wearing Madura traditional costume, and offer Independence Day discount up to 30%.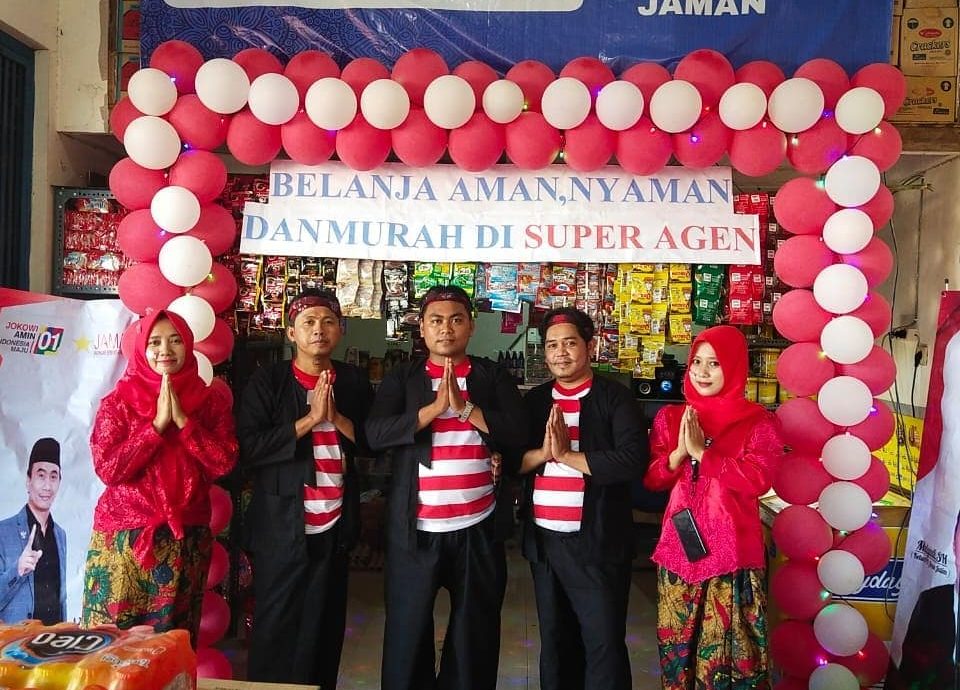 Fourth, "Toko 5 Cakrawala" who participated in #SemarakMerahPutih with photo and video content. They have decorated their store with the Indonesian flag and also make a video promotion of their store. Fifth, "Toko Wanda", Super Center who does not want to be outdone by other Super Centers, in this event they participated with video content, the owner wearing traditional clothes of Indonesia while dance and sing a "Kebyar Kebyar" song by Gombloh.
Super Center's creativity and their interest in #SemarakMerahPutih already made Aplikasi Super amazed and will think multiple times to choose the best of them.
#GrebekSuperMerdeka: Super for Independence Day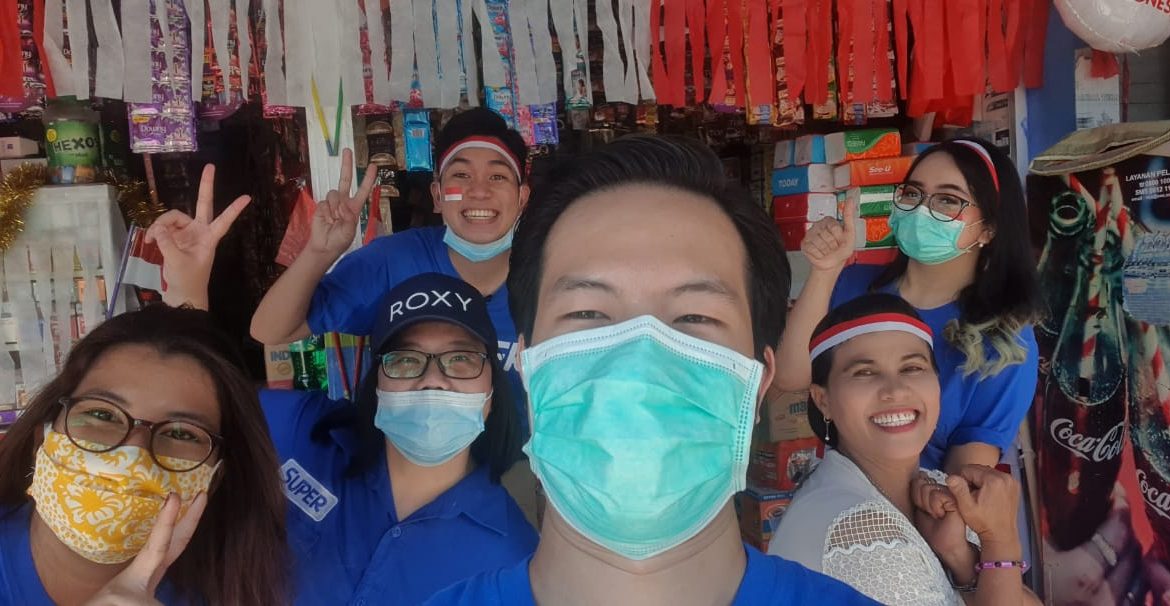 Although still have to take care of health protocol, the Super tries to cheer up the Super Center on Indonesia's Independence Day. On Wednesday, August 19, 2020, Applications Super's team have visited three Super Center for held #GrebekSuperMerdeka.
The best three Super Centers which has been visited by Aplikasi Super's team are "Toko Lestari Jaya", "Toko Wanda", and "UD Rumah Pangan Jaman". With brought prizes, Super's team give them three categories questions, which are general knowledge, the meaning of Independence Day, and questions about Aplikasi Super.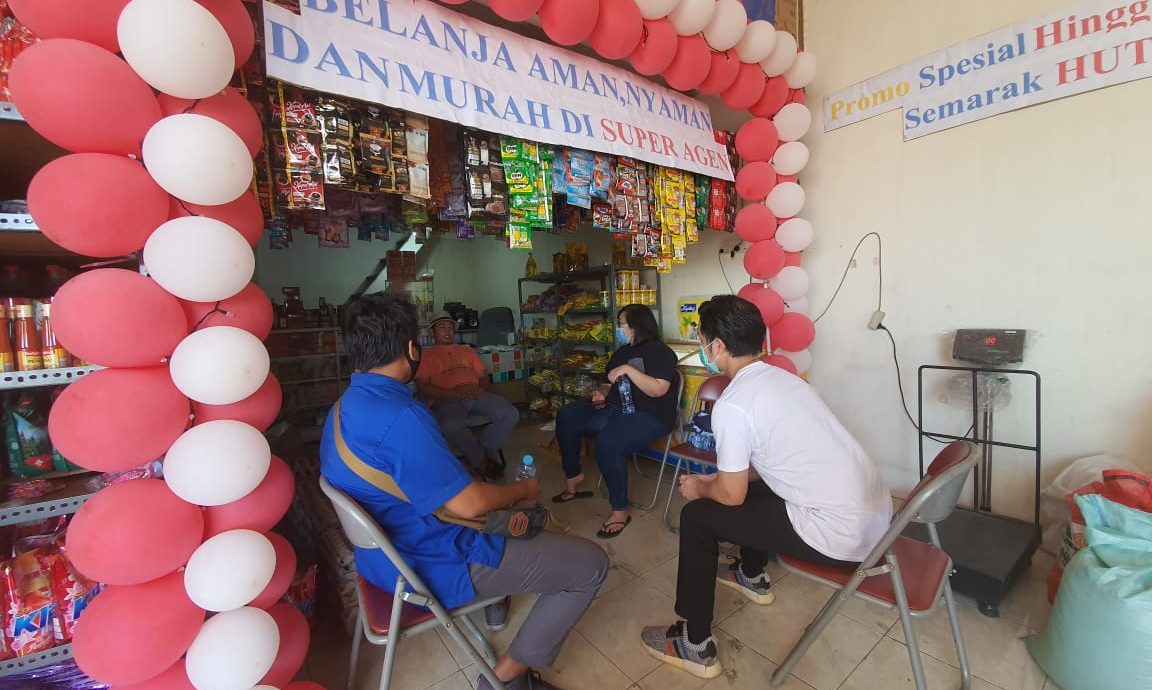 Some of the questions given by the Super's team are who is the first president of Indonesia? when does Indonesia's Independence Day fall on? and where Aplikasi Super can be downloaded? Not only that, but there is also a challenge to winning this event, such as put nails into the bottle. If the owner of Super Center succeeded answers and passed the challenge, they will get Rp300.000.
#MerdekaDiRumah and #AgustusanBarengSedulur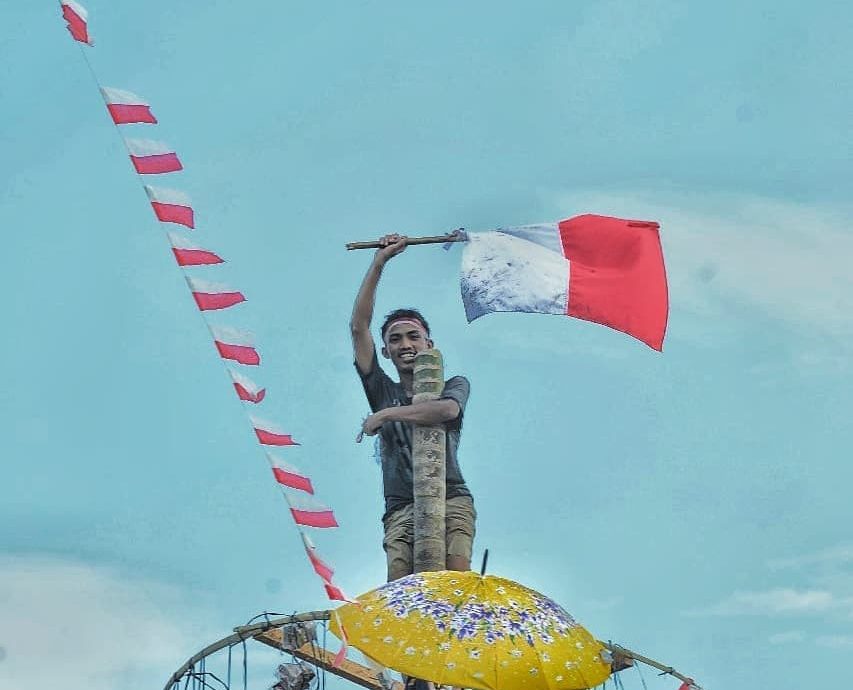 To break the chain of COVID-19 transmissions in this country, we better to #StayAtHome and implemented physical distancing protocol. However, this condition should not set back the spirit of Indonesia's Independence. To celebrate 75th Indonesia's Independence Day amid this pandemic, Aplikasi Super held #MerdekaDiRumah and #AgustusanBarengSedulur, photo and video competitions that can participate by all Indonesians.
This event held from August 16 to August 30, 2020. Those people who want to join this event must follow the Instagram @AplikasiSuper and take a picture which can increase the spirit of Independence Day, it can be your favorite food in Indonesia or photo with your family that wearing independence attributes. Then, they post their photo or video into Instagram, tag @AplikasiSuper, and mention three of your friends. The winner will get awesome prizes.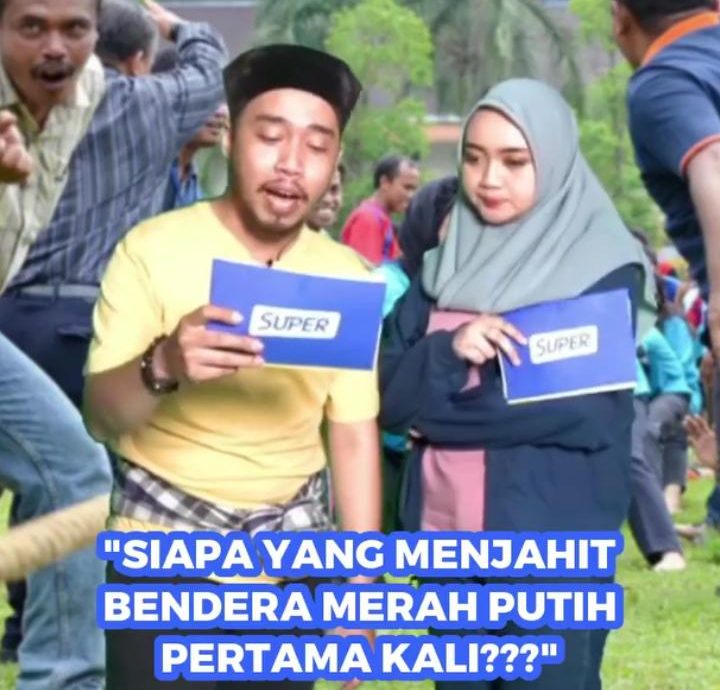 Aplikasi Super also held an interactive quiz entitled "Kuis Bareng Pak Supri dan Bu Sumi" from August 16 to 22 August 2020, 2020. This quiz will make all of @AplikasiSuper's followers answers the questions that given by Pak Supri and Bu Sumi through IGTV. This quiz has been held six times which means there are already six questions given by Pak Supri and Bu Sumi.
The answers can be given through the comments column and mention three of your friends. Don't forget to enclose the two hashtags which are #MerdekaDiRumah and #AgustusanBarengSedulur. This quiz also offers the best prizes.
So far, the question that attracts the most attention of Aplikasi Super's followers is "siapa yang menjahit bendera merah putih pertama kali?" This question offers Rp500.000 as a prize and has succeeded get 102 answers in the comment column.
To keep up the spirit of Independence Day during the COVID-19 pandemic, Aplikasi Super tries to spread the positive impact for all Indonesians, especially Super Center. For all of you who want to join the Super Center, don't hesitate to download Aplikasi Super. By joining the Super Center, you will get many advantages, such as affordable prices, high-quality goods, and free delivery services. What are you waiting for? Let's catch up Aplikasi Super.